Drosera zigzagia is a unique species of sundew endemic to the wheatbelt of Western Australia. Along with Drosera salina, it is one of two species that is exclusively associated with salt lake ecosystems. At the end of winter in 2019, I embarked on an expedition to WA to better understand the ecology of this species.
As its specific name not-so-subtly suggests, Drosera zigzagia grows an erect zigzagging stem up to 10 cm tall. At each leaf node, the stem switches direction at an oblique angle giving rise to its characteristic shape. The stem and leaves are a dark amber colour with golden tentacles tipped in red glands. At the end of the growing season, mature specimens grow several pastel yellow flowers with feather-margined sepals. Immature specimens grow a green-red basal rosette while this structure seems to be absent in flowering-sized plants.
Drosera zigzagia grows in quartz sand near salt lakes. In contrast to D. salina, which occupies the slopes right next to the water line, D. zigzagia prefers flat sandy clearings in the bushland elevated away from the lakes. While the surface of these fields are often washed a brilliant white, the substrate below consists of a brown loamy sand. In these habitat patches, the species often grows en mass. It appears that the association with salt lakes is not due to salinity, but rather the ability of watercourses (which are practically all saline in inland WA) to deposit the quartz substrate.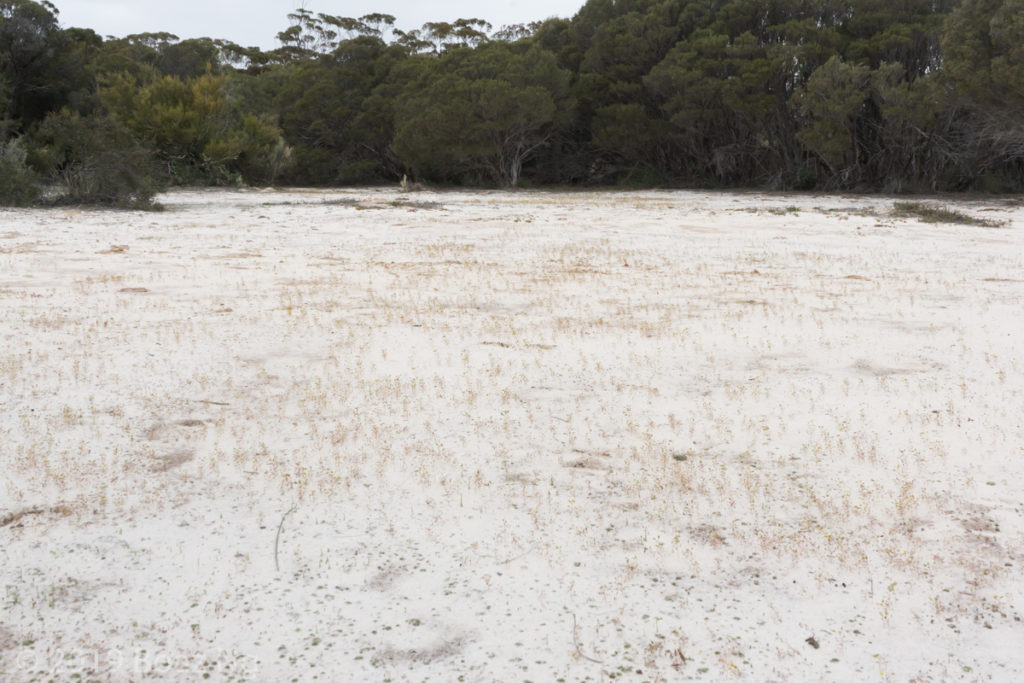 Drosera zigzagia is relatively widespread throughout the salt lakes of the region and grows in a relatively generic niche within these habitats (as opposed to the more specific D. salina). It is not listed as threatened. Notwithstanding, the salt lake habitats are generally vulnerable to the effects of extensive agriculture. It is important to protect these ecosystems to ensure the survival of unique species like this in the future.